Several months ago President Paul Biya promised to gift students of the state universities of the country laptops. After a long wait, the first batch of laptops have arrived, 40,000 of them. out of the 500,000 to be distributed.
The laptops were made with a loan by the Cameroon government from the Chinese bank. It was manufactured in China. The brand of the laptops are PB HEV Laptops which stands for 'Paul Biya, Higher Education Vision.' See note by minister of higher education: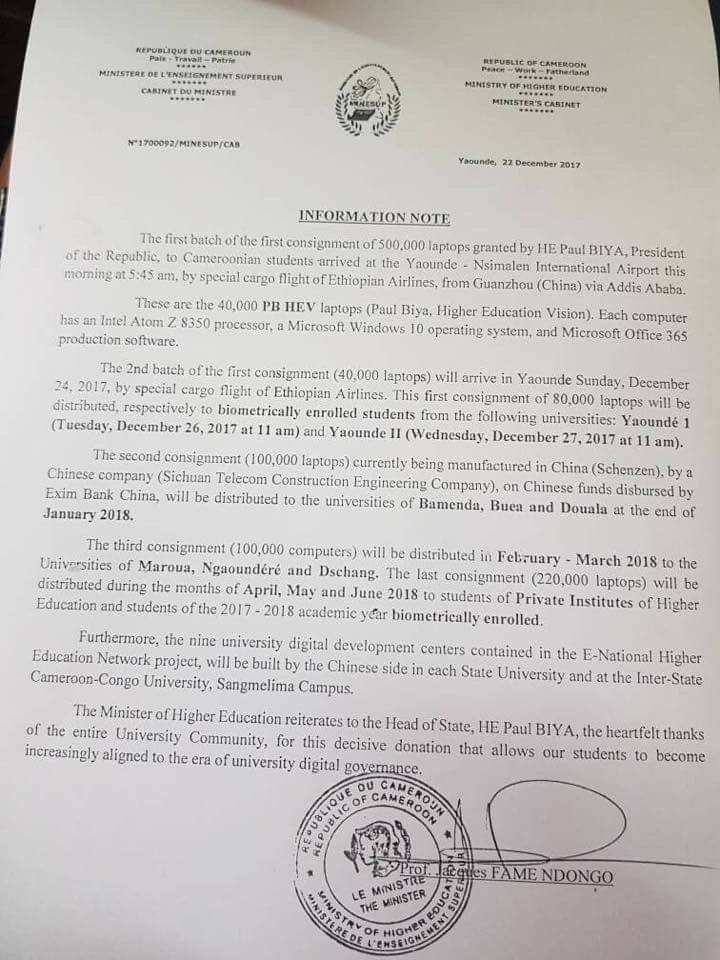 This first batch has been distributed to bio-metrically registered students of the University of Yaounde 1.
The others will be distributed in January next year. These are the details and specifications of the laptops:
10 inches screen
i3 1.4 ghz processor
Hard drive sSpace 30G , 17G free
RAM 2G
Windows 10 64 bits
2 USB ports
1 HDMI port
1 SD port
1 Jack socket
1 charging port
The University authorities gave the students a guide on how to get to their destinations safely after receiving the laptops. They urged those walking on foot to walk in groups, those taking taxis to collect the phone numbers of the taxi drivers and those going far to see the secretary of the school so they can be transported safely. Read guide below: